COLLABTYPE WORKSHOP BEST WISHES ITALIC
☺️ WELCOME / BIENVENIDXS
The world's largest Collaborative Typeface
🖨✂⚫◾🔠
WTF Team —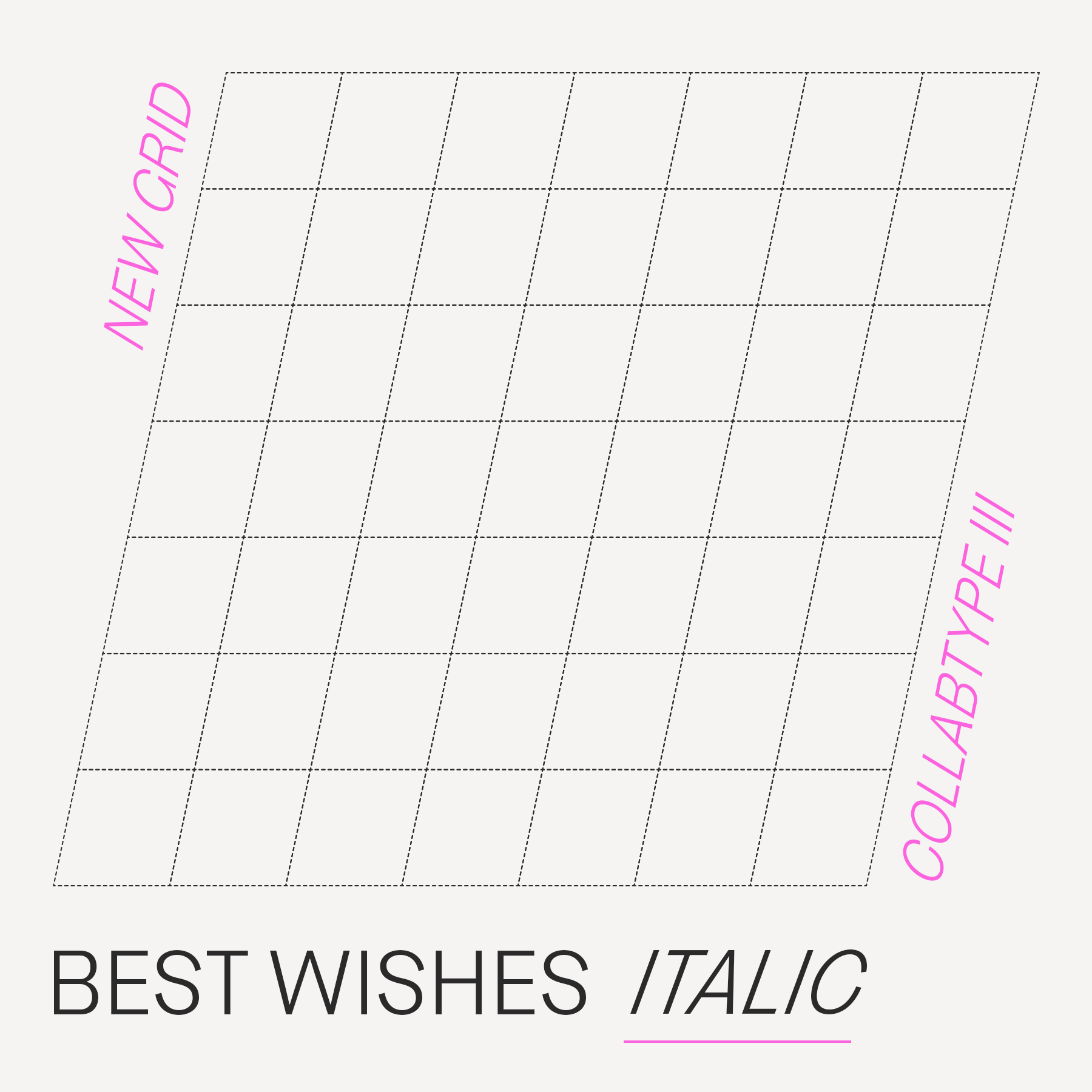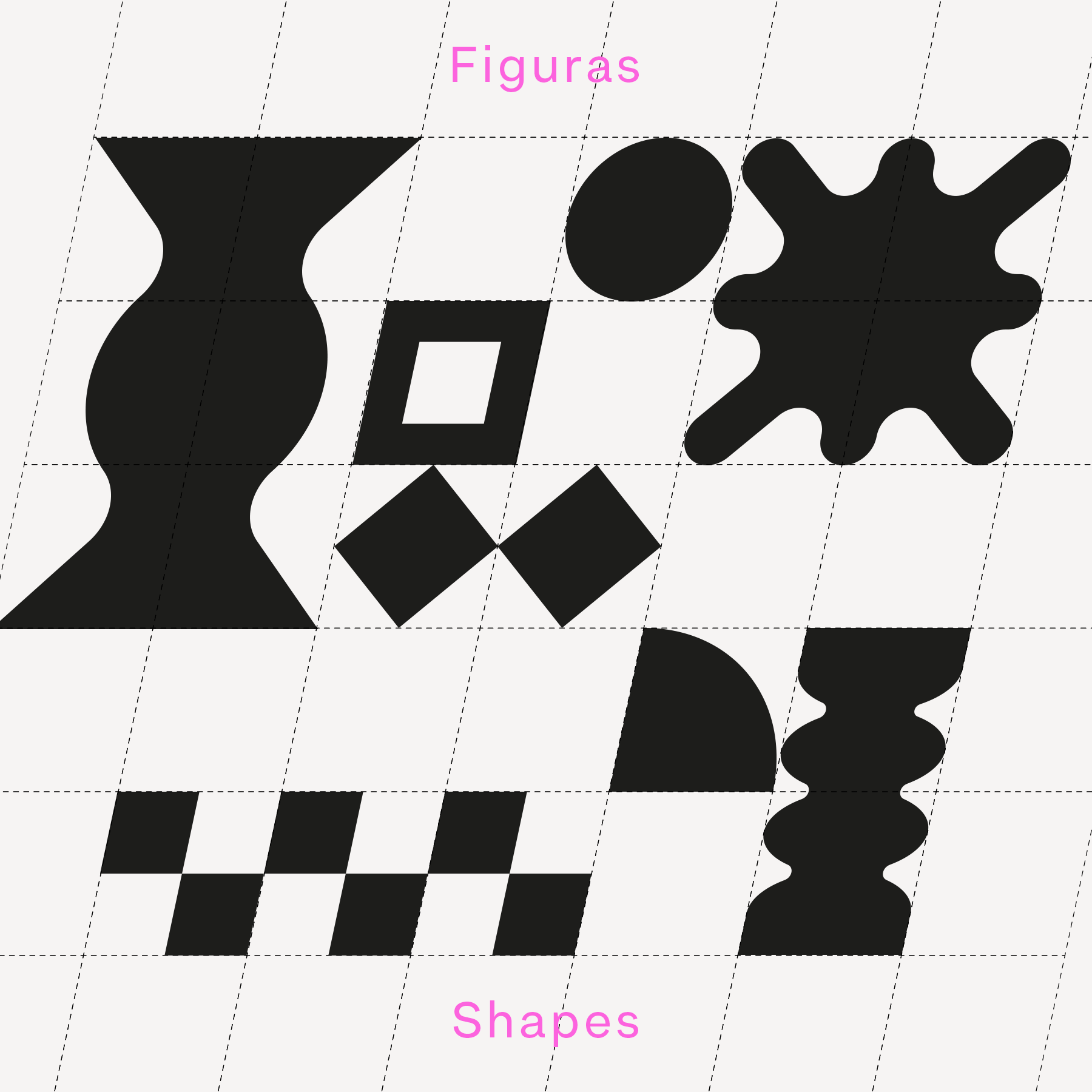 ☺️ IN AN INCREASINGLY VIRTUAL WORLD, WE'VE DECIDED TO MOVE AWAY FROM THE DIGITAL (and often lonely) APPROACH TO FONTS WITH THIS COLLABORATIVE, REMOTE, WORLDWIDE TYPOGRAPHY WORKSHOP.
Our aim: To create a functional typography in a short time frame by collaborating with as many people as possible, dividing the letters, symbols, numbers and emojis between the participants.
The methodology: Using paper, scissors and glue, build a letter over the "letter grid" following the instructions provided.
The materials: Printer, paper, scissors, glue and scanner ✂️

The schedule:
JANUARY 10 - 13 _ Signup dates.
JANUARY 15 -19 _ You design and forward your assigned letters.
JANUARY 20 - 23 _ W Type Foundry programs the font.
JANUARY 24 - 25 _ Font testing for participants.
JANUARY 27 _ Official release of the font to the public.

LET'S BEGIN THE WORKSHOP
The day has come! We are 100 participants, thank you very much to everybody how signed up. You are about to be part of the biggest collaborative typography ever made!
Start by printing the instructions + work KIT that was sent to you.
Look for your name in the list below, find the letters assigned to you.
Read the instructions, watch the video and get to work!
Cut, test, play and glue at your own pace!
For more information:
hola@wtypefoundry.com
Download previous edition fonts:
WTF_CollabType ft Type Thursday Barcelona May 2021.
WTF_CollabType ft New Latin Wave, March 2021.

---
EN UN MUNDO CADA VEZ MÁS VIRTUAL, HEMOS DECIDIMOS ALEJARNOS DEL FORMATO DIGITAL CON ESTE TALLER DE TIPOGRAFÍA COLABORATIVO, REMOTO E INTERNACIONAL.
Nuestro objetivo: Crear una tipografía funcional en poco tiempo colaborando con el mayor número de personas posible, dividiendo las letras, símbolos, números y emojis entre los participantes.
Metodología: Utilizando papel, tijeras y pegamento, construir letras sobre una grilla siguiendo las instrucciones proporcionadas.
Materiales: Impresora, papel, tijeras, pegamento y escáner.

Programa:
10-13 ENERO _ Te inscribes
15-19 ENERO _ Diseñas las letras que te asignaremos
20-23 ENERO _ W Type Foundry programará la tipografía
24-25 ENERO _ Tu podrás testear la tipografía
27 ENERO _ Lanzamiento oficial de la tipografía al público

EMPECEMOS EL WORKSHOP
Llego el día! Somos 100 participantes, muchas gracias a todxs quienes se unieron. Estas a punto de ser parte de la tipografía colaborativa más grande nunca antes hecha!
Imprime las instrucciones + KIT de trabajo que enviamos.
Busca tu nombre en la lista abajo, ahí encontraras las letras que te corresponde diseñar.
Lee las instrucciones, ve el video y manos a la obra!
Recorta, prueba, juega y pega a tu propio ritmo!
Información:
hola@wtypefoundry.com
Descarga las tipografías de los talleres anteriores
WTF_CollabType ft Type Thursday Barcelona Mayo 2021.
WTF_CollabType ft New Latin Wave, Marzo 2021.
---
RECAP
The results are in and we are super excited about it, the first italic version for this collaborative project is ready! — BEST WISHES ITALIC —
5 days to design.
93 authors completed and sent their letters.
345 characters were assigned (letters, symbols, punctuation, emojis).
Authors joined from 26 different countries.
The main goal of this workshop is collaboration and we couldn't have done it without everyone who signed up and sent their letters!
THANK YOU TO ALL OF THE AUTHORS for committing to this project and congratulations on the result.
—
Download WTF_TypeCollab_BWI
The latest addition to the world's largest experimental collaborative typeface.
AUTHORS / AUTORES
Addison Smyth, Aitor Conde, Alberto Molina, Alessandro Crippa, Alexandre Delasalle, Alma Breun, Ana Peña, Andrea Buendía, Andrés Vega, Anika Sabin, Anna Nichyparovich, Arianna Ravioli, Atanas Giew, BD85, Belén Arce, Ben Rumble, Bianca Milea, Camila Alarcón, Camila Araya, Camilo Jorquera, Carlos Callejo Meruelo, Carlos Candray, Carolina Velasco, Cassidy Wall, Cathy Rodgers, Clémence Russeil, Dania Ardiles, Dannia Ardiles Vilches, David Sun, Dawn Sinkowski, Elias Quiroz, Emilee Seymour, Enzo Araya, Fernanda Aránguiz, Filippos Fragkogiannis, Francisco Cabrera, izzwann shah, James Parrillo, Jean-Christophe Bouthillier, Jessica Gracia, Joaquin Maciel, John SkylerJohnson-Wagner, Jorge Lopez Tristan, Jose Maulen, Juan Ortega, Karla Barracuda, Kat McCord, Kathleen Foster, Katrín Helgadóttir, Konstantinos Stamatis, Leo Calderón, Léo Madore, Louis-Philippe Bélanger, Mar Lemus, Marcela Aguilera, Maria Rousounelou, Marios Antonopoulos, Matina Nikolaidou, Mauro Andrés, Meesh Strauss, Miguel Hernandez, muk monsalve, Nancy Bernardo, Natalia Ramirez, Natalie Mavrota, Nenney Ochoa, Nishma Barajas, Noëmie Savall, P A, Paulina Citlalli Zarria Severino, Pavlos Lavithis, Peter Roeleveld, Pola Małaczewska, Ramón Lozano, Rana Wassef, Ricardo Figueroa, Rou Contreras Salinas, Sabina Roman, Sofia Vardevanyan, Sofía Valenzuela, Tamara Segura, Tamara Marcia Martel, Tarix Sepulveda, Tsvetislava Koleva, Tuan Le, Ubaldo Ortiz, Veronika Papadopoulou, Véronique Meloche, Virginia Andronikou, Wiz Wzar, Xavier Belho Cortizo, YI YI, Zevy Blokh, Bana Arasanz, Patricio Truenos & W Type Foundry.
---